Jeff Saywitz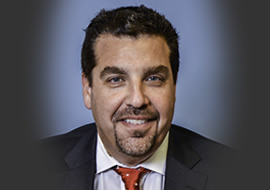 HISTORY:
Jeff Saywitz is a 23 year veteran in the commercial real estate industry. He has been with the company since 1992, and is a specialist in all facets of tenant representation. Mr. Saywitz has extensive transactional experience that includes large national portfolio business, in addition to countless one-off requirements of varied size and scope and has negotiated transactions I more than 35 states across the country. From 1995-2000 he ran the company's Northern California office and Corporate Services Group. In 2000 he returned to his native Southern California to oversee the brokerage activities and manage the offices for the company in both Orange County and San Diego. He specializes in office and industrial requirements, specifically in Southern California, however, he has expertise in most major markets throughout the country. Today, in addition to his transactional work, Mr. Saywitz oversees all aspects of the brokerage operations of the organization, and splits his time between the corporate headquarters in Orange County and the San Diego office. Prior to joining The Saywitz Company, Mr. Saywitz was a financial analyst with Merrill Lynch.
EXPERIENCE:
THE SAYWITZ COMPANY
Principal 2012 – Present
THE SAYWITZ COMPANY
Senior Vice President 2006 – 2011
THE SAYWITZ COMPANY
Vice President 1995 – 2005
HOWARD ECKER & COMPANY
Real Estate Consultant & Leasing Specialist 1992 – 1995
MERRILL LYNCH
Financial Advisor/Analyst 1991 – 1992
SELECTED TRANSACTIONS AND CLIENT LIST:
Jeff Saywitz has been involved in a variety of transactions from 1,000 to more than 100,000 square feet. He has negotiated transactions across the country and his client list includes a variety of international corporations and entrepreneurial entities. Selected clients include Lee Hecht Harrison, Adecco Employment Services, Accountants on Call, Applied Industrial Technologies, John Deere, Mitsubishi, Sunwest Bank, Center For Autism & Related Disorders, Muscular Dystrophy Association, Cosmodyne, Jaco Environmental, Systran Software, Onsite Energy, Managed Solution, Marx Okubo, BikeBandit.com, Lifecare Solutions and Chase Manhattan Mortgage Corporation.
EDUCATION & LICENSING:
Bachelor of Arts in Communications — University of Colorado, Boulder
Real Estate Sales License — State of California
Real Estate Sales License — State of New York
FAMILY AND PERSONAL INTERESTS:
Mr. Saywitz maintains homes in San Diego and Newport Beach and is active in all markets. He has previously traveled abroad extensively and resided around the country on various business projects, which have included San Francisco, Chicago, New York and Boston. Mr. Saywitz also travels extensively as a personal interest and has traveled throughout Southeast Asia, Europe, Africa, the Middle East and North America. He enjoys playing golf, going to the beach and snow skiing.
CHARITY ORGANIZATIONS, MEMBERSHIPS AND HONORS:
University of Colorado, Boulder, Alumni Association
Jewish San Diego Chamber of Commerce