Andrew Herron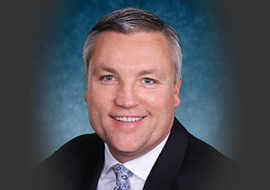 HISTORY:
Andrew Herron is a 20-year veteran of the Real Estate industry. He has been with The Saywitz Company since 1999 and is a specialist in a variety of tenant representation assignments. Mr. Herron has handled large accounts with over 1,000 offices throughout North America and has negotiated transactions in more than 40 states throughout the country. He specializes in office, industrial and retail requirements specifically in Southern California, however he has expertise in most major markets throughout the country. Prior to joining The Saywitz Company, Mr. Herron was in charge of the leasing and marketing for a large mid-western development company headquartered in Cincinnati, Ohio.
EXPERIENCE:
THE SAYWITZ COMPANY
Senior Vice President 2011 – Present
EXPERIENCE:
THE SAYWITZ COMPANY
Vice President 2006 – 2011
THE SAYWITZ COMPANY
Senior Real Estate Consultant 2000 – 2005
THE SAYWITZ COMPANY
Real Estate Consultant 1999 – 2000
SILVERMAN AND COMPANY
Leasing Specialist 1998 – 1999
CORPOREX REALTY INVESTMENT SERVICES
Leasing Specialist 1996 – 1998
MASSA REALTY AND DEVELOPMENT
Associate Broker 1994 – 1996
SELECTED TRANSACTIONS AND CLIENT LIST:
Andrew Herron has been involved in a variety of transactions from 2,000 to 300,000 SF. He has negotiated transactions from California to New York and his client list includes many of the countries Fortune 500 companies. Selected clients include GfK Holdings, Milwaukee Electric Tools Corp, Network Appliance, The Rockefeller Development Group, Chase Manhattan Mortgage, Adecco Employment Services, Lee Hecht Harrison, Sapporo USA, Intermatic Inc., Metals USA, Habitat for Humanity, Long Williamson and Delis, Air Treatment Corp, Vavrinek, Trine, Day & Company, Chenbro Micom (USA), and XP Power.
EDUCATION & LICENSING:
Bachelor of Arts in International Studies — The Ohio State University
Real Estate Sales License — State of California
FAMILY AND PERSONAL INTERESTS:
Andrew currently resides in Costa Mesa with his children. Andrew's interests include outdoor activities, going to the beach, bike riding, snow skiing, surfing and enjoying the outdoors.
CHARITY ORGANIZATIONS, MEMBERSHIPS AND HONORS:
Orange County Economic Development Council
The Ohio State University Alumni Association
Sigma Chi Fraternity Alumni Association
The Saywitz Company Top Producers 2001 – 2008, 2012