Aaron Roberts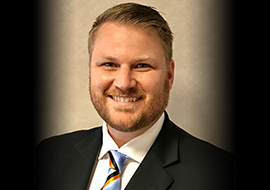 HISTORY:
Aaron Roberts is the Manager of Brokerage Services. His responsibilities include the oversight and operations of the day to day brokerage and business development for The Saywitz Company's operations. He interfaces with the executives of the firm, the individual brokers and the administrative staff. Mr. Roberts has been with the firm since 2008 and has assisted in a variety of capacities prior to assuming his current role.

REAL ESTATE EXPERIENCE:
THE SAYWITZ COMPANY
Manager, Brokerage Services 2012 – Present
Associate 2008 – 2012
EDUCATION:
MBA Master of Business Administration – National University, La Jolla, CA 2011
BS Bachelor of Science, Business Administration — California State University, San Marcos 2007
FAMILY AND PERSONAL INTERESTS:
Aaron currently resides in Aliso Viejo, where he enjoys golf, snowboarding, traveling and spending time with his wife and two daughters.
CHARITY ORGANIZATIONS, MEMBERSHIPS AND HONORS:
Member – Sigma Iota Epsilon, The National Honorary and Professional Management Fraternity
Certificate of Leadership Studies – Orange Coast College